Arista Bergquist
I joined GYS in the summer of 2016. I remember my first night like it was yesterday. I was so scared that I was going to fail and not be able to keep up with doing even 100s. Everyone was so supportive and encouraging that night, and that is what stuck. At the end of the night, I did 6 out of 12, not bad. Now jump forward to summer 2017, I'm doing 200s to 300s regularly and not a terrible time either. The one thing that gets me coming back every week is the people, and support that you get. You could literally not know anyone there your first practice, but by the end you will leave with a family.
Some of my hobbies outside of track club are; working out, traveling, spending time with family and friends, playing with my kitten Fin and Chihuahua Ava, and loving my amazing boyfriend Ryker. I have been employed at Mann Signs, Inc. as a graphic designer for about a year and a half now, and MAN do I love my job. (See what I did there! Lame joke I know)
Anyways, if you're on the fence about coming to a practice, just go, you won't regret it!
Chantal (Faul) Stenen
I grew up on a farm and ranch outside of McClusky, ND. After high school graduation I joined the United States Marine Corps. While on active duty I ran because I had to, but never really enjoyed it. After being honorably discharged from the military I moved to Fargo and struggled with depression. I started running to cope with depression and to lose weight. I discovered I really enjoyed running when no one was forcing me to do it! Around this time I also started taking an anti-depressant medication that worked for me, after several frustrating years of trying different medications. Along with medication, running became an invaluable component of managing my depression. My first race was the YMCA Chase Race 10k in the summer of 2009, and even though it was raining, I fell in love. I decided to train for a full marathon that fall and chose the Bismarck Marathon because it was closer to my family. My parents, siblings, grandparents, some aunts and uncles, cousins, and a couple friends all came out on a very hot day to cheer me on to a first marathon finish! I have enjoyed the mental, emotional, and physical benefits of running ever since. In 2015 I moved to Bismarck and really missed the frequency of races that had been available in Fargo. I kept running anyway and in 2017 I met April Lund and GYS Track Club members at a local 5k. I started personal training with April and joined GYS Track Club. Within only five weeks my 5k time had improved by a minute and half! Because of the amazing support, encouragement, and friendships I found in track club I knew I was meant to be in Bismarck. I have completed two ultra-marathons, ten full marathons, around thirty half marathons and many shorter distanced races as well. When I am not running, I enjoy reading, traveling, watching movies with my husband Randy, spending time with family, and working as a medical laboratory scientist. Being part of track club has given me many great volunteering opportunities within my local community. I also count the GYS track club races as some of my best race experiences! As a board member I look forward to putting on great races, productive and positive practices, giving back to local organizations, and helping others on their own running journey.
Cora Huss
I am originally from Lakeville, MN. I completed my bachelor's in Animal Science from North Dakota State University in December of 2015. I like to spend my time barrel racing in the summer, watching Bison Football in the fall, cheering for the Minnesota Wild in the winter, and hanging out with friends. I started my fitness journey in June of 2016. Through the track club, I have learned to love running and met lots of great friends! I look forward to meeting up every Wednesday and engaging in healthy, fun fitness. Hope to see you there!
Before Track Club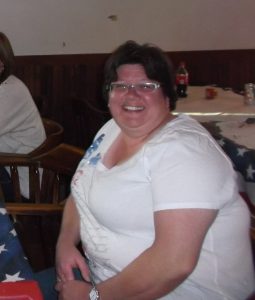 Jessica (Hoff) Dworshak
Hi, I am Jessica I grow up in Underwood ND I am married to Shannon, we have no children but he do have 2 cats and a dog, I am the maintenance person at Mandan McDonald's where I have been for 11 years in July but been with the company since march of 99  and I am also the vice president of the co-op that I live in, and a board member of the GYS track club, and here is a little information of how that came about.  Lets go back a few years to about October 2013I ended up in the ER with pain in my are up through the chest and of course the first thing they check for is heart attack which scared the crap out of me turned out that was all good, so then the following summer while out camping some friends and family were all sitting around the camp fire talking and we got talking about how we feel and stuff like that, and I realized I needed to do something about it so on October 29, 2014 I joined golds gym at that time I weighed 241 pounds,  I had a trainer twice a week then I dropped to 208 pounds  and then when he started classes so  I decided to  dropped down to once a week, to better work with our schedule then I found out that he had to leave for an internship so at that time we decided I was going to take a break, boy was I wrong, Then in 2016 while I was at home I received a phone call from some one saying their name was April and that she was a trainer at golds gym and that she had talked to my other trainer and that it was ok If she took me under her wing, needless to say I didn't know what to think well I said yes then after a few training session she kept bring up this this track club thing and I kept putting it off until finally I decided to check it out, and I am glad I did, the friends I have made and the things I have accomplished I never thought I had it in me but  eleven 5ks (in one year) later. I think I am addicted! And then late this last year she asked me to be a member on the board and I accepted! When I am not busy running races, working or practicing I enjoy camping, fishing, spending time in my yard and hanging out with family and friends.
Larissa Harrison
I have been participating in road races since childhood. In the past seven years I have participated in numerous 5ks, 10ks and 20 plus half marathons. In 2005 I sustained life changing injuries in a rollover car accident. I use running as a physical and social outlet. Every time I complete a workout it is a celebration of my body being strong enough to do what I set my mind to. I want to encourage runners of all abilities to do their best whatever that maybe.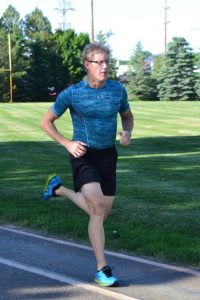 Patrick Nagel
I was asked to run with GYS when the club first started. Developing Multiple Sclerosis in my fifties slowed me down, and I didn't think it would ever be possible to run a half marathon again. After training with the club that summer I was able to compete in the Bismarck half marathon, and I finished close to my personal best time. Since then, I have faster half marathon times than I did prior to MS. I have also completed an Olympic triathlon finishing in the top 3 for my age group. GYS track club is not only about running as some of us also swim, bike, and lift weights. There is also a very active social aspect to the group.